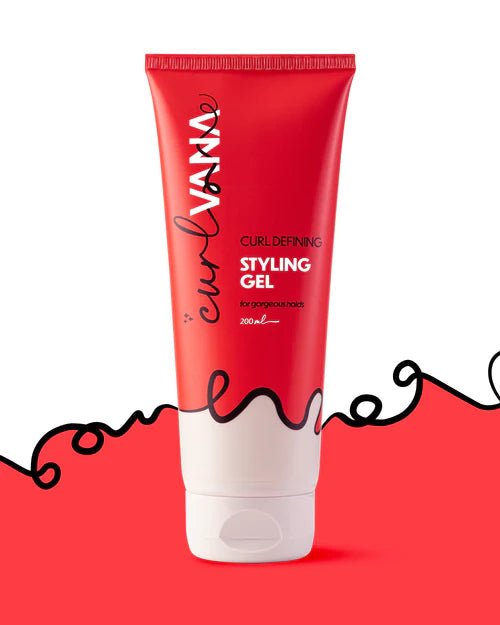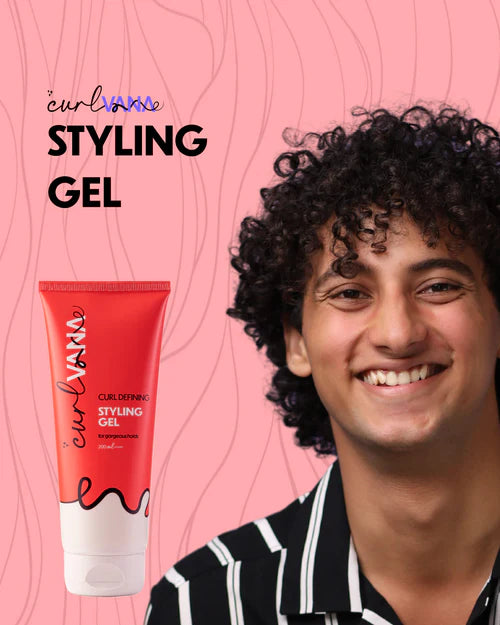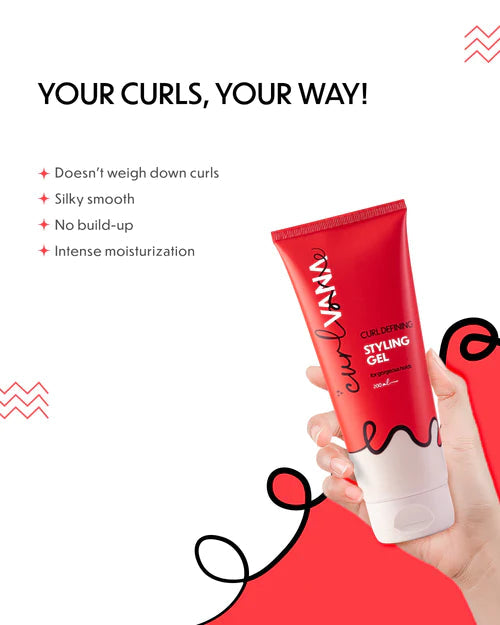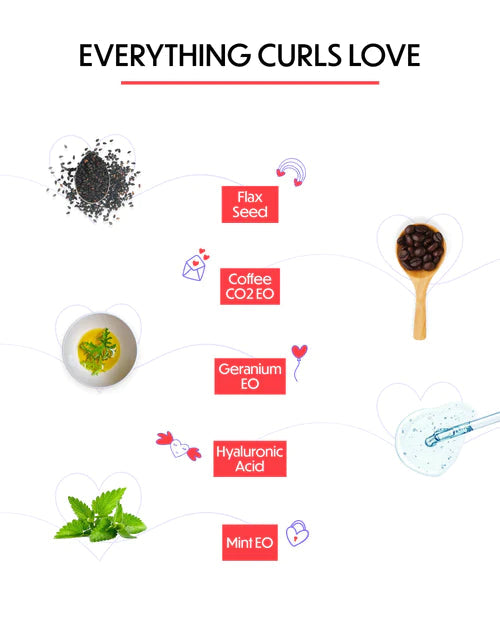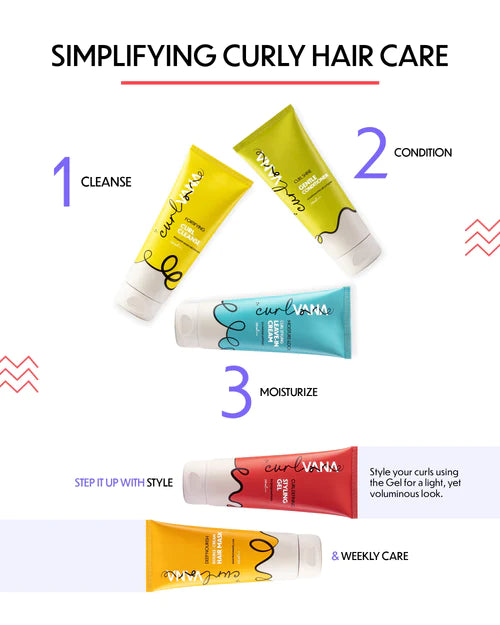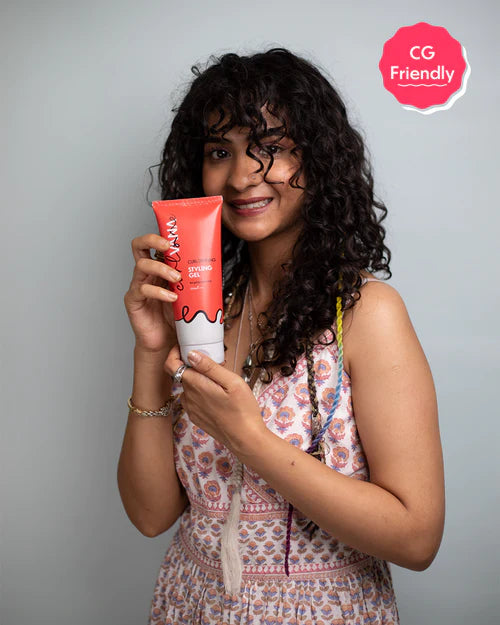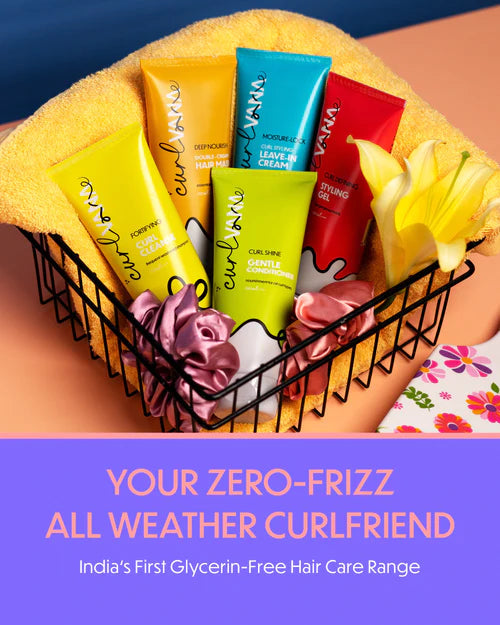 Curlvana Curl-Defining Styling Gel, 200ml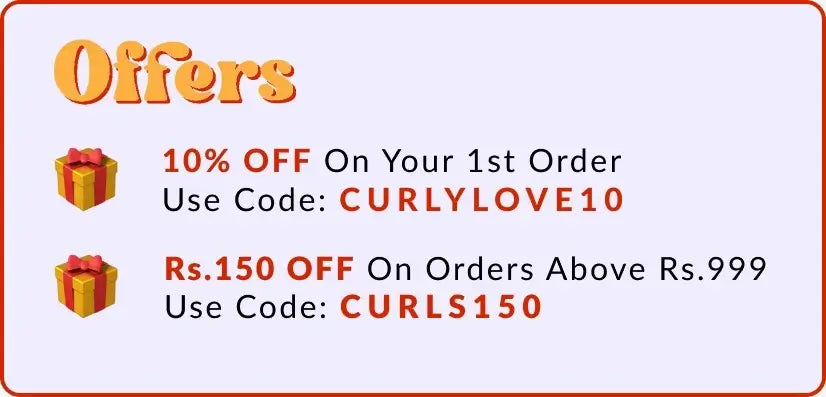 This lightweight gel coats hair evenly to provide flexible hold while deeply conditioning curly strands, without causing any buildup. It amplifies the curl pattern for ultimate definition, and improved manageability.

WHY IS GLYCERIN-FREE
GOOD FOR CURLS?
Glycerin tends to behave differently in conditions of different humidity. It can over-absorb moisture and disrupt curl pattern, causing frizz. Curlvana uses no Glycerin, and provides SUSTAINED HYDRATION and moisture-delivery through a proprietary combination of CURL-LOVING Jamaican Black Castor Oil, Hydrating HA, Pentavitin, Aloe Vera and Shea Butter. When there's Zero-Glycerin, all days are GOOD CURL DAYS.
FRIZZ-FREE,
DAY 2 OR DAY 3!
What about Day 2? And Day 3? Curlvana's LONG-LASTING curl care makes your Day 2 and Day 3 just as glorious as your wash day. It's time to move to India's First All-Weather Zero-Frizz Curly Hair Range.
CURL DEFINING STYLING GEL
for gorgeous holds
YOUR CURLS YOUR WAY: Phew! It's time for a styling gel with light silk-like consistency. Show up with your curls in your favourite style and get ready for all the compliments.
Real Curls, Gorgeous Transformations
Everything Curls Love!
Your Zero-Frizz All Weather Curl Friend
Simplifying Curly Hair Care
We Love the same things that You Do
We Hate the same things that You do
We Love the same things that You Do
We Hate the same things that You do
Reviews from Happy Curlies
Best so far
I liked all their products, and will give a shot to combo pack for sure.
Reviewed On Amazon
Nice product
Packing is very good and product is nice .
Reviewed On Amazon
It's worth it
Best product😍😍
Reviewed On Amazon
Pragati-just wow
Curlvana's Curl Defining All in One Styling Gel has become an absolute must-have in my hair care routine. As someone with curly hair, finding the right styling product can be a challenge, but this gel has proven to be a game-changer.
Reviewed On Amazon
Styling gel
One of the standout features of this styling gel is its versatility. Whether you have curly, wavy, or coily hair, it seems to work wonders. The fact that it's suitable for both women and men is a testament to its inclusivity. The gel defines my curls beautifully, providing a natural yet enhanced look that lasts all day.
Reviewed On Amazon
Curl Definition
This gel delivers on its promise to define curls, giving my hair a beautifully sculpted look.
Reviewed On Amazon
Best one!
The really liked this styling gel.i got my hands on this product few days ago and it's perfect for my curly hair. This is a affordable and a good product in the market.it is also silicon and paraben free which is the plus point. Just apply this product on your dampened hair and there you go your perfect curls.recommended to try out all the curl range product of this brand .go for it guys,it's worth it!
Reviewed On Amazon
I love this gel . i have expensive ones but this one works great than that at an affordable prize and I have finished 2 tubes . Just go for it 💗
Nice
I have frizzy wavy hairs. Someone recommended me to try styling gel first I thought it will be gel Like boys n will make hairs rigid. Tried this brand gel n boy i was wrong. It made my wave nice n determined with smooth hairs. Loved the results. Got so many compliments
Reviewed On Amazon
Shine your hair
It provides a beautiful shine and a luminous look to my hair. Made my hair less frizzy and manageable.Gel hold curls upto 3 days. Easy to apply ,not sticky. Even small quantity works. I usually use it before any heat/ styling my hair. I just need a lil amount and I am good to go. I highly like this styling gel moisture is much better than this.value for money.great for beginners,this Hair gel is the first product I ever used on my textured hair journey and I absolutely fell in love I love the fact that it's beginner-friendly and doesn't dry out your hair.
Reviewed On Amazon